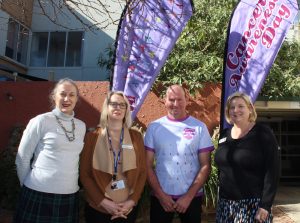 New outreach counselling service
The Albury Wodonga Regional Cancer Centre Trust Fund is proud to announce funding for a new outreach clinical psychology service for cancer patients and carers at Wangaratta.
Trust board member Kerry Strauch said $25,000 has been allocated towards providing oncology counselling at Northeast Health Wangaratta (NHW) once a fortnight, at no cost to users.
It comes as the existing service, offered two days a week in the Wellness Centre of the Albury Wodonga Regional Cancer Centre, has been operating at capacity.
"The counselling service launched at the cancer centre last August is in huge demand and has proven to be of enormous value in providing support to people impacted by cancer," Mrs Strauch said.
"We hope this outreach service will not only improve access for patients and carers from Wangaratta and surrounds who fit it difficult to travel, but also increase service capacity to meet demand."
Funding provided for the new counselling service includes a $16,000 donation from the Rutherglen Football and Netball Club following its Cancer Awareness Round in May.
The Rutherglen Cats held their first Cancer Awareness Round in 2017 in honour of coach, Karl Jacka, who lost his battle with cancer that same year.
The inaugural year raised $93,000, followed by $13,000 last year, with all funds raised going towards the services provided by Clinical and Health Psychologist, Dr Anne-Marie Daw.
Over the past 12 months, Dr Daw has provided 377 counselling sessions to 130 patients and carers at the Wellness Centre. Many of those displayed symptoms of anxiety, depression or stress following a cancer diagnosis.
NHW Director of Clinical Services, Rebecca Weir, said there was considerable evidence regarding the emotional, psychological and practical challenges people with cancer face, especially those in rural and regional areas.
"Often accessing psychology services can be difficult due to availability and financial hardship," she said.
"The fortnightly outreach psychology service hosted by NHW will greatly improve support and access for cancer patients and their families.
"This service will be provided at no cost to patients and reduce travelling considerably.
"We welcome Anne-Marie Daw, Clinical Psychologist and thank the Albury Wodonga Regional Cancer Centre Trust Fund for supporting patients across the region and their families."
Anyone wishing to access the new service can contact the Wellness Centre on (02) 6064 1562.