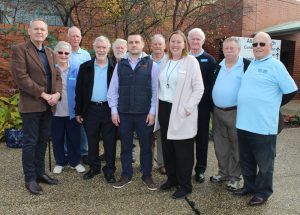 New scanner to aid prostate cancer care
A high-tech scanner used to check bladder function following prostate cancer treatment is now in use at Albury Hospital thanks to donations made to the Albury Wodonga Regional Cancer Centre Trust Fund.
The 3D bladder scanner, valued at $15,600, was purchased using money donated by the Albury Wodonga Prostate Cancer Support Group, and with funds raised through the Pub2Pub Run Albury held last November.
With a high level of precision, the scanner is able to measure bladder size, location and shape.
Operations Director Cancer Services Robyn Gillis said to have such a highly accurate and sensitive piece of equipment would greatly assist urologists to monitor the bladder pre and post prostate cancer treatment, and assist patients in making informed decisions regarding their care.
"Bladder scanning is painless for the patient and eliminates the risk associated with unnecessary catheterisation," she said.
"The entire scan takes only a couple of minutes to complete, allows greater privacy for patients as under garments do not need to be completely removed and may prevent unnecessary invasive procedures."
The Albury Wodonga Prostate Cancer Support Group has donated more than $16,000 to the Trust, which includes $8500 raised by organisers of the Pub2Pub Run.
Prostate cancer support group leader, Glenn Rose, said members wanted to invest in a worthwhile initiative that would benefit local cancer patients.
"Some of the guys in our group have had problems with the catheter after they came out of prostate cancer surgery and it was felt that the bladder scanner would be something that was really useful," he said.
The prostate cancer support group also recently donated $9000 for three medical staff members to undertake further study in prostate cancer care.