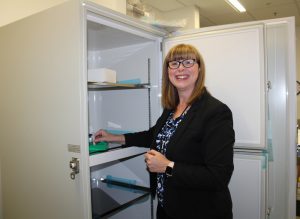 New equipment for cancer research
Community funds have helped purchase a vital piece of equipment for cancer research at the Albury Wodonga Regional Cancer Centre.
A new ultra-low medical freezer was needed urgently at the Border Medical Oncology Research Unit for the storage of blood and serum samples.
Research Team Manager, Jacqui McBurnie, said the unit's other freezer was 12 years old and unable to maintain the required temperature.
"The ultra-low freezer keeps blood and serum samples at minus 80 degrees until they are shipped world-wide for testing and further research," she said.
"Without it we wouldn't be able to participate in the clinical trials that we do."
A grant of $18,400 was provided by the Albury Wodonga Regional Cancer Centre Trust Fund to allow the new freezer to be purchased at short notice in April.
To make a donation and help make more of these equipment purchases possible, please click here