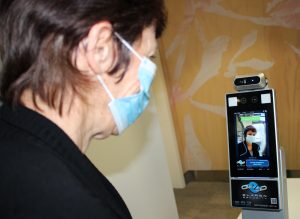 New scanners protecting patients during COVID-19
New high-tech scanners funded by the Albury Wodonga Regional Cancer Centre Trust Fund are helping to protect cancer patients, carers and healthcare staff in Albury during the COVID-19 pandemic.
Two digital thermal scanners have been purchased using $6630 in community funds for the entrances of the Albury Wodonga Regional Cancer Centre and Albury Hospital emergency department.
The non-contact scanners provide for fast and accurate temperature readings while allowing for social distancing.
Trust Fund chair, Michelle Hensel, said the new equipment would help reduce the risk of transmission at a time when coronavirus cases were on the rise.
"It's so important for cancer patients and their carers to feel safe when entering our health facilities, as they are among the most vulnerable in our community in this pandemic," she said.
"These scanners provide rapid temperature testing to help detect active infection, in particular COVID-19.
"Being able to produce fast, accurate temperature readings has reduced queue times to enter the cancer centre, and improved the ability for people to social distance.
"It has also reduced the risk to staff through improved social distancing during the screening process."
Clinical Director of Cancer Services at Albury Wodonga Health, Dr Craig Underhill, said the organisation was "incredibly grateful" for the donation.
"Our hospitals and facilities remain a safe place for people to receive vital health care and these scanners are another important tool in our fight against COVID-19," he said.
"It's going to make COVID screening quicker for those requiring emergency care at the Albury emergency department, and for cancer patients and carers accessing the cancer centre for treatment."
Part of the money used to fund the scanners was raised by Karen Denham, of Albury, and her Sydney-based sister-in-law Nerilee Thompson, with the help of the Holbrook community.
Mrs Denham and Mrs Thompson formed Mawson's Vision, which successfully raised more than $11,500 for the cancer centre over four years by selling knitted goods.
Their best seller during that time was a knitted rabbit with a full set of clothing, which was sent to buyers all over Australia and overseas.
Mawson's Vision received a large amount of help from the community of Holbrook, where Mrs Denham worked, by way of wool donations, sales and assistance with knitting.
Mrs Denham and Mrs Thompson have decided to retire the project with a final donation of almost $4000 in June used to purchase the scanners.
"We're so grateful to Karen and Nerilee, and everyone who assisted in raising that funding so we can make a genuine difference to cancer patients in our region," Mrs Hensel said.
The remaining cost was sourced from general donations to the Albury Wodonga Regional Cancer Centre Trust Fund.