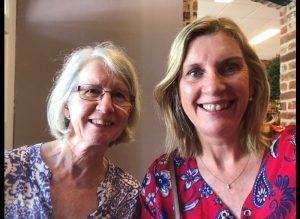 Chapter closes on Mawson's Vision
After making hundreds of knitted goods to raise money for the Albury Wodonga Regional Cancer Centre Trust Fund, Karen Denham and her sister-in-law Nerilee Thompson have put away their knitting needles.
With the help of many in the Holbrook community where Mrs Denham worked, the pair who called themselves Mawson's Vision, successfully raised more than $11,500 for the cancer centre over four years.
Their best seller during that time was a gorgeous knitted rabbit with a full set of clothing, which was sent to buyers all over Australia and even overseas.
"It blows me away from humble beginnings to what we were able to achieve," Mrs Denham, of Albury, said.
"It started off just Nerilee and I, and a couple of years ago we decided to make these rabbits.
"Just through word of mouth, we were getting so many orders that we couldn't keep up.
"That's when Lily Lu's craft group in Holbrook began helping out, and then people in different parts of Victoria who I've never even met.
"They would knit the rabbits for us and Nerilee and I would stuff them to ensure quality control."
Mrs Denham and Mrs Thompson, who is based in Sydney, said they also had the support of local businesses who donated wool and displayed their items for sale.
One of their biggest customers was a gentleman from the Blue Mountains who would order 500 items a year to donate to hospitals in Melbourne and Sydney.
Mrs Denham was inspired to support the trust fund after losing her first husband, Mario, to cancer at 43.
But after working "flat out" for four years, and Mrs Thompson finding she had less time to knit with the arrival of her first grandchild, the pair decided to wind up their fundraising efforts.
"I feel like we've done what we set out to achieve, and the best part of it for me was having my daughter come back to Albury to live," Mrs Denham said.
Mrs Denham's daughter, Kristyn Farrugia, was working in Sydney before returning to take up a job as an oncology nurse at the cancer centre.