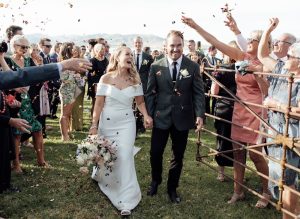 Couple asks for donations in lieu of gifts
In lieu of traditional wedding gifts, Zac Simmonds and Georgia Morris asked their friends and family to donate to a cause close to their hearts.
The Albury couple raised more than $2200 from donations to the cancer centre trust fund after they tied the knot in April.
Mr Simmonds said they had both been touched by cancer through family members, and wanted to do something to help others in similar situations.
"We didn't feel comfortable with people giving us gifts or money, so thought what else could we do," he said.
"We both have parents or grandparents who have gone or are going through cancer, and thought this was a great opportunity to do something for a good cause."
After postponing twice because of COVID, Zac and Georgie were married at Zac's parents' Huon property on Lake Hume.
Photo by Amber Fletcher Photography