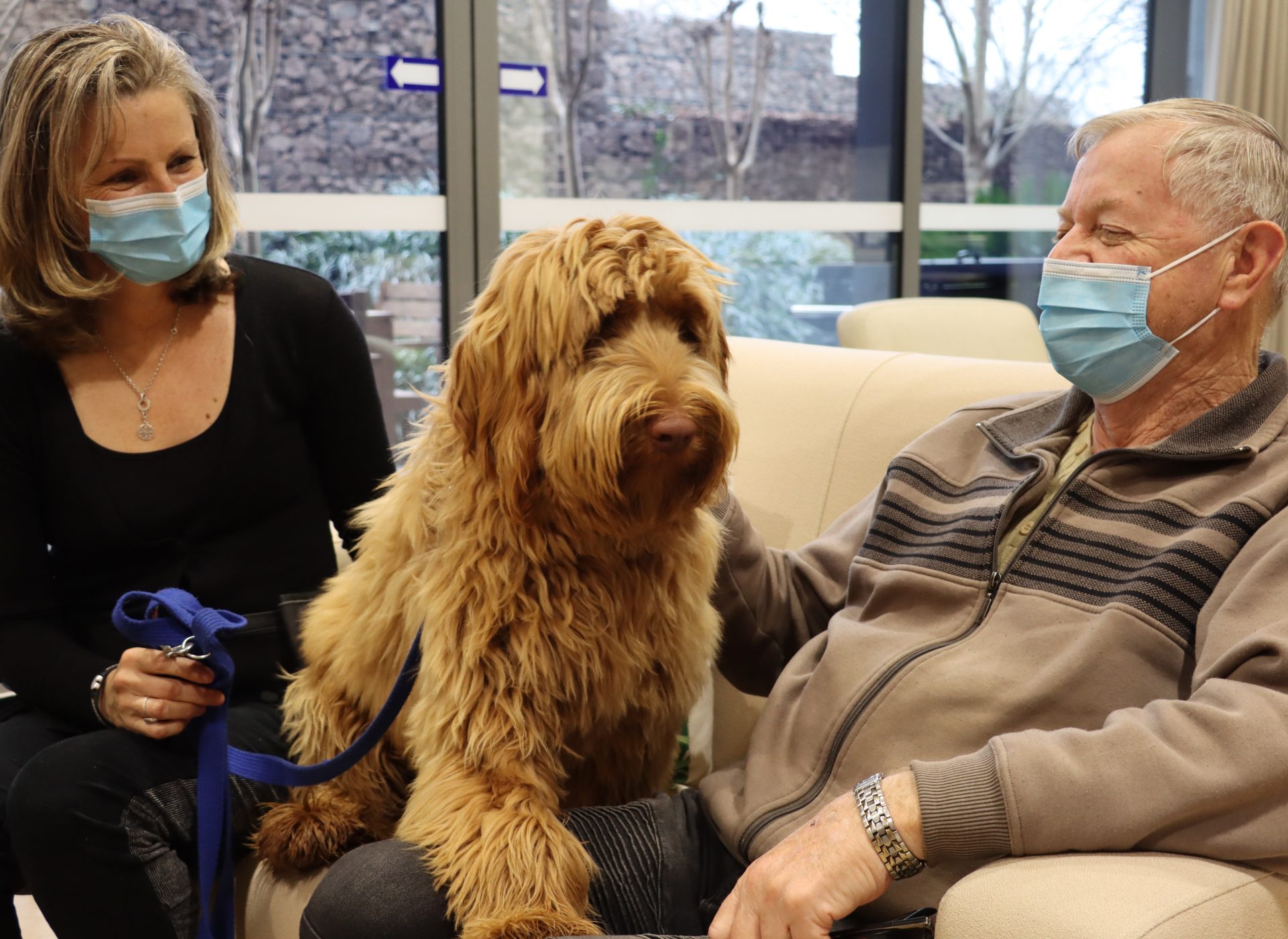 A pooch with the pawfect touch
Therapy of the four-legged kind is having a positive impact on patients and carers at the Albury Wodonga Regional Cancer Centre.
Since February, George the Australian labradoodle has been visiting the chemotherapy, radiation and inpatient wards where he has been bringing joy to those in need.
His owner trainer, Justine Rofe, said a pat or cuddle with George can release the feel-good chemical, oxytocin, and assist people with their physical and mental health.
"Therapy dogs are called social lubricants, which is a bit of an odd term but you see it; people just start talking," she said.
"Normally they might've just been sitting there bunkered down waiting for the treatment.
"You see these smiles behind the mask and you can feel their energy … people start talking about their own dogs, their families or sometimes their treatment.
"Most of all, people smile and say thank you for bringing George, and my heart feels full."
George visits the cancer centre on Mondays as part of his training with Therapy Dogs NSW.
It comes after Ms Rofe finished treatment for breast cancer in 2021, and struggled to return to her previous full-time employment.
Seeking a more fulfilling role, she decided to purchase George and from three months, train him up to become a therapy dog.
"Having been a patient here, I would've done anything to bring my dog in and sit on my lap for chemo," Ms Rofe said.
"When I worked out that I wanted to be a therapy dog trainer, I thought I need to come in here and give back.
"It would be great to make people forget for a few minutes why they're here and why they're in the chair."
While bringing smiles to the faces of many during their visits, including staff, Ms Rofe said one patient in particular was grateful for their visit to the inpatient ward.
"This lady wasn't very well and was having a really, really rough day," she said.
"When we came in her face lit up.
"I put George up on her bed, at her request, and he just knew what to do.
"He leaned right in, and then he laid down so she could pat his tummy.
"When we left, she was smiling."
About three weeks later, they came across the same patient who told Ms Rofe that she didn't know what they had done for her.
"I'm going home now," the patient said.
"My son said I could get a dog and he asked what type. I said that I wanted one like George."