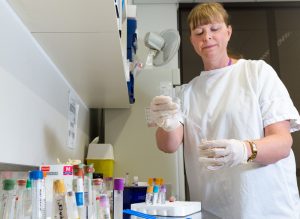 Blood test trialled to prevent unnecessary chemo
Research at the Albury Wodonga Regional Cancer Centre could save ovarian cancer patients from having needless chemotherapy after surgery.
In collaboration with the Walter and Eliza Hall Institute of Medical Research, the Border Medical Oncology Research Unit is trialling a blood test to detect if cancer cells still remain in the body following surgical treatment.
The results aim to identify which patients can avoid chemotherapy and its side effects.
It could also help determine the appropriate dose for those who do require chemotherapy.
Research Team Manager, Jacqui McBurnie, said there is currently no reliable way of knowing which patients are at risk of their cancer returning.
"Many early stage cancer patients who have surgery also have chemotherapy as a precaution, to mop up any remaining cancer cells," she said.
Ms McBurnie said a range of serious and ongoing side effects can come from having chemotherapy.
They include nausea, fatigue and nerve damage in the short-term, as well as long-term damage to the heart, lungs, kidneys and nervous system.
"For anyone who can avoid having chemotherapy, it will be a huge improvement on their quality of life," Ms McBurnie said.
The Border Medical Oncology Research Unit is currently involved with 10 clinical trials targeting ovarian cancer thanks to the support of the Border Ovarian Cancer Awareness Group and other donors.