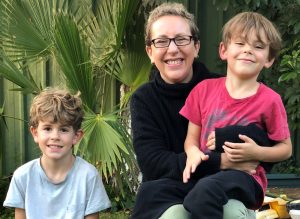 Mindfulness helping patients get the most out of life
Amina Price is no stranger to feelings of fear and anxiety.
In fact, she has battled issues with anxiety for most of her life.
About three years ago, after a number of other strategies didn't work, she decided to try mindfulness training.
"It was quite life-changing in some ways for me because it was about being comfortable with the things you were feeling rather than trying to avoid them," she said.
"Instead of pouring energy into distracting yourself, you acknowledge the feelings are there and that there is room in your life for other things, and that they can co-exist with anxiety."
Amina, 44, continued to practise mindfulness until life got busy and demands as a working mum got in the way.
Then in July last year, she was diagnosed with breast cancer.
Faced with a life-threatening disease, Amina said she was again overwhelmed by feelings of fear and anxiety, but this time on a much larger scale.
She focussed on getting physically well, which involved surgery, radiation and chemotherapy, before turning her attention to her mental well-being.
Her cancer treatment finished in February and shortly after, Amina became one of eight patients to sign up for the latest course of the Mindfulness-Based Stress Reduction program offered through the Wellness Centre.
With support from the Albury Wodonga Regional Cancer Centre Trust Fund, the program is facilitated by Border Mindfulness over a period of eight weeks.
Classes are normally run once a week in the Wellness Centre, but on this occasion was offered online as a result of COVID-19.
As well as reining in her anxiety once again, Amina, a mum of two young boys, hoped the course would also help her to learn to "live in the present".
"Being middle-aged, you assume that you're going to have a bunch more time to learn to get out of your head and enjoy life; that it'll come later when the kids get older or you retire," she said.
"Then you get told you have cancer and realise that there may not be a later on.
"Now is the time to start living life to the full."
Mindfulness practitioner Ben Engel said the course helped participants to better manage both short and long-term stressful situations, such as those faced by cancer patients and their carers.
"We see reductions in pain levels and an enhanced ability to cope with pain that persists," he said.
"Participants also find new ways of relating to their minds and bodies, which leads to improved self-esteem, an increased ability to relax and a greater appreciation of life."
For further information about the mindfulness program, please contact the Wellness Centre on (02) 6064 1562 or email [email protected]