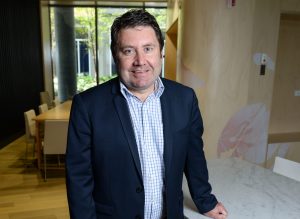 Region to benefit from new partnership
Cancer patients from North East Victoria and Southern NSW will have better access to cutting-edge treatments through a new partnership between the Victorian Comprehensive Cancer Centre and Albury Wodonga Health.
The Victorian Comprehensive Cancer Centre (VCCC) is an alliance of 10 leading research, academic and clinical institutions, working together to accelerate and amplify leading-edge cancer research, knowledge and expertise to benefit the Victorian community.
"The VCCC is focused on improving outcomes for cancer patients no matter where they live in metropolitan, regional, or rural Victoria," Executive Director of the VCCC, Professor Grant McArthur, said.
Under a new Memorandum of Understanding, Albury Wodonga Health will be an Affiliate Partner of the VCCC, which will enable:
Greater opportunities for collaboration across the Victorian cancer sector;
More local patients to participate in clinical trials, including early phase and personalised oncology trials;
Strengthened workforce capability through access to world-leading educational programs and fostering connections with peers; and
A partnership between doctors in the Albury-Wodonga region and leading specialists at Melbourne's cancer hospitals.
Cancer remains the greatest disease burden in Victoria with 96 new diagnoses each day. Victorians with cancer living in regional or rural areas have a lower five-year survival rate compared with patients in metropolitan areas; 66 per cent compared to 70 per cent.
"Patients with cancer living in regional and rural Victoria can be disadvantaged in terms of access to care and clinical trials – we need to change that," Professor McArthur said.
Clinical trials provide patients with the opportunity to access new treatments, therapies and technologies, and can extend and improve a patient's quality of life.
However, regional patients experience several barriers to accessing clinical trials – sometimes having to drive hundreds of kilometres weekly, taking leave without pay, or needing extensive support to assist with family and household needs when they have to travel.
Clinical Director, Cancer Services, Albury Wodonga Health, Dr Craig Underhill said the partnership with VCCC would enable the Albury Wodonga Regional Cancer Centre to build upon its service delivery and reputation.
"This collaboration will really take our cancer service to another level," Dr Underhill said.
"Currently, less than a third (27 per cent) of those patients recruited to a clinical trial live in regional or rural Victoria. Through this partnership, we will be able to increase local access to clinical trials."
The VCCC Teletrials Program enables clinical trials in regional areas using digital platforms, such as telehealth, and collaborative partnerships to establish trial treatment delivery.
Albury Wodonga Health, Chief Executive Officer, Michael Kalimnios said this new partnership will benefit cancer patients living in Albury Wodonga, now and in the years ahead.
"We're very excited about this new partnership, which will give local patients better access to cancer care and clinical trials," he said.
"This partnership will also help to foster connections, enhance training, and build collaborations for our cancer workforce, which means we will build capacity to deliver better care to our patients."
The VCCC alliance members are Peter MacCallum Cancer Centre, Melbourne Health (including The Royal Melbourne Hospital), The University of Melbourne, the Walter and Eliza Hall Institute of Medical Research, the Royal Women's Hospital, The Royal Children's Hospital, Western Health, St Vincent's Hospital Melbourne (including St Vincent's Institute), Austin Health (including the Olivia Newton-John Cancer Research Institute and Austin Lifesciences) and Murdoch Children's Research Institute.
The VCCC has so far established affiliate partnerships with Albury Wodonga Health and Bendigo Health, with more to come in the near future.