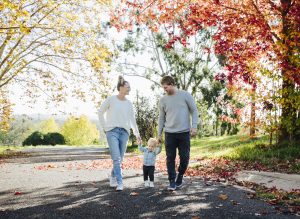 Stepping up for a cause close to their hearts
For Matt and Jorja Langbine, the Sunshine Walk will be a celebration of getting through one of the toughest times of their lives.
This time last year, Matt was being treated for Myxoid Sarcoma after discovering a lump on his left thigh.
Jorja was 32 weeks pregnant with their first child when he began radiotherapy at the Albury Wodonga Regional Cancer Centre.
Matt's treatment went for 28 days, with their son, Tex, arriving mid-way through.
In July 2019, on his 27th birthday, Matt had the tumour removed by sarcoma specialist, Prof Peter Choong, at St Vincent's Hospital in Melbourne.
The surgeon cut out a 14.5cm by 14.2cm by 6cm chunk of tissue and muscle from his leg to remove the tumour.
Matt then underwent weeks of physiotherapy to build up strength and to learn to walk confidently again.
He made great progress and after receiving the all-clear in September, returned to work at Wodonga Engineering Centre.
Matt is now on an eight-year plan of scans and check-ups to ensure the cancer doesn't return.
Matt and Jorja are this year's Sunshine Walk Ambassadors, along with Wodonga café owners, David and Rox McNamara.
"We are taking part in the Sunshine Walk to give back to the community where we can," Matt said.
"It's also to thank everyone at the cancer centre and the people who supported me along the way.
"I hope we can do our part in raising cancer awareness and showing it can affect anyone.
"The past year has been a journey for our little family and this walk will be a celebration for getting through it all."
For more about the Sunshine Walk, click here