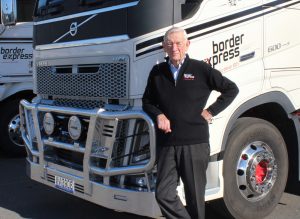 Border Express shines a light on cancer trust
Albury transport company, Border Express, has committed to being a top level supporter of the Albury Wodonga Regional Cancer Centre Trust Fund for another three years.
Having already donated $45,000, the family-owned and run business has agreed to continue as a Shine supporter of the Trust Fund at least until 2022.
The commitment represents an investment in local cancer services of $15,000 per year for the next three years.
Border Express chairman Max Luff, who founded the business in 1981, said it was a cause close to the company's heart.
"Like most families, our family has been significantly impacted by cancer," he said.
"My wife, Lynn, has been a cancer sufferer and we also lost our daughter-in-law, Sue, to cancer in 2000.
"But I just think the cancer centre a fantastic facility for the Albury-Wodonga region.
"It has taken us leaps and bounds above a lot of other regional areas."
Border Express is a national transport and distribution services company with a strong capital city and regional network.
It is one of the few privately-owned transport organisations of its size in the country, and is committed to delivering 100 per cent on time, in full and intact.
The company's vision is to be recognised by its customers as the industry leader for service, delivery and value.
If you would like to learn more about becoming a corporate sponsor of the Trust Fund, please phone (02) 6064 1538 or email [email protected]