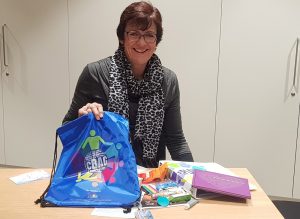 Trust grant ensures patient comfort is in the bag
If comfort, care and community came together to form a tangible object, this is what it would look like.
The careBAG, filled with comfort items and resources, was launched in Albury in August following a $20,000 grant from the Albury Wodonga Regional Cancer Centre Trust Fund.
The blue drawstring bag and its contents are designed to be like a "community hug" for anyone on the Border who has been newly diagnosed with cancer.
The project, overseen by the Albury Wodonga Cancer Foundation, is expected to see about 1500 of the bags distributed free of charge within the first year.
Trust Fund chair Michelle Hensel, who lost her son Braedon to cancer in 2014, was one of nine committee members involved in putting the bags together.
She said the committee hoped the bags would remind patients that they are not alone on their cancer journey.
"Many of us involved in putting together the careBAG over the past 18 months have lost a loved one to cancer, or been personally affected by cancer," she said.
"We hope that everyone who receives one of these bags and all of the items that come with it, can feel the love and support from others who have been on that journey before them."
Included in the careBAG is a folder dubbed as a "CPlan", which is used to keep track of appointments and important documents.
The CPlan has been the initiative of Cristy Jacka, whose husband and Border sporting identity, Karl, lost his battle with cancer in 2017.
Other items in the bag include socks, mints, lip balm, tea bags, hand warmers, coffee voucher, wooden comfort symbol and a copy of the Brave Hearts on the Murray book, What Cancer Taught Me.
The bags will be available through Border Medical Oncology, Genesis Care, Hilltop patient and carer accommodation centre, and Terry White Pharmacies.