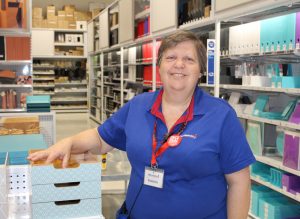 Raelene determined to make it to 60
First it's her daughter's wedding in December, and then a 20-year work anniversary next year.
But ultimately it's living long enough to celebrate her 60th birthday five years from now that would mean so much to Wodonga's Raelene Metry.
"It's hard because people don't understand," she said.
"They think if you get treatment it's going to make you better.
"They don't know it's more of a maintenance thing, and you're trying to make the most of the time you've got."
Raelene was diagnosed with breast cancer in June 2014.
It was the moment Raelene describes as having "all hell break loose", with a whirlwind of doctors, surgery, radiation and chemotherapy to follow.
Once the most intense part of her treatment had finished, Raelene was placed on the hormone therapy drug, Exemestane.
By reducing the amount of oestrogen in her body, Exemestane worked to slow the growth of Raelene's cancer.
"I was on Exemestane for two years and that was probably the best treatment I've had," she said.
"It was the time when I gave myself a bit of hope because it just seemed to be working ok.
"I was back at the gym, trying to be healthy, losing weight, doing everything right, and then I sort of felt like my body betrayed me again."
A routine check-up found that the cancer had spread to her bones.
Raelene underwent further chemotherapy to try and contain its growth, but a recent scan found four small lesions also growing in her brain.
In May, she underwent another five rounds of radiation to try and shrink the tumours, one of which is dangerously close to an optic nerve.
Raelene has now been placed on a clinical trial through the Border Medical Oncology Research Unit, and her treatment now is focussed on giving her more time.
At the very least, Raelene hopes it will help her see her 27-year-old daughter, Stephanie, walk down the aisle in Wodonga this December.
She is also hoping to celebrate 20 years of service to Officeworks.
Having worked there for the past 19 years, Raelene says the company has supported her through thick and thin, including her decision to work throughout her cancer treatment.
Officeworks Wodonga also held a fundraiser throughout June in support of the Albury Wodonga Regional Cancer Centre Trust Fund.
By asking customers to round up the value of their purchase to the nearest dollar – the difference going towards their fundraising tally – the store was able to donate almost $5500.
In addition to her work colleagues, Raelene said she was fortunate to also have good support from friends and family, including husband Braham.
She said with their help, and a positive attitude, she intends to still be living for many years to come.
"At the moment, my goal is my 60th because I'm 55," she said.
"It's probably a stretch, but who knows and that's where it's difficult because everyone is different.
"I'm damn stubborn, and I'm going to be here for as long as I can."