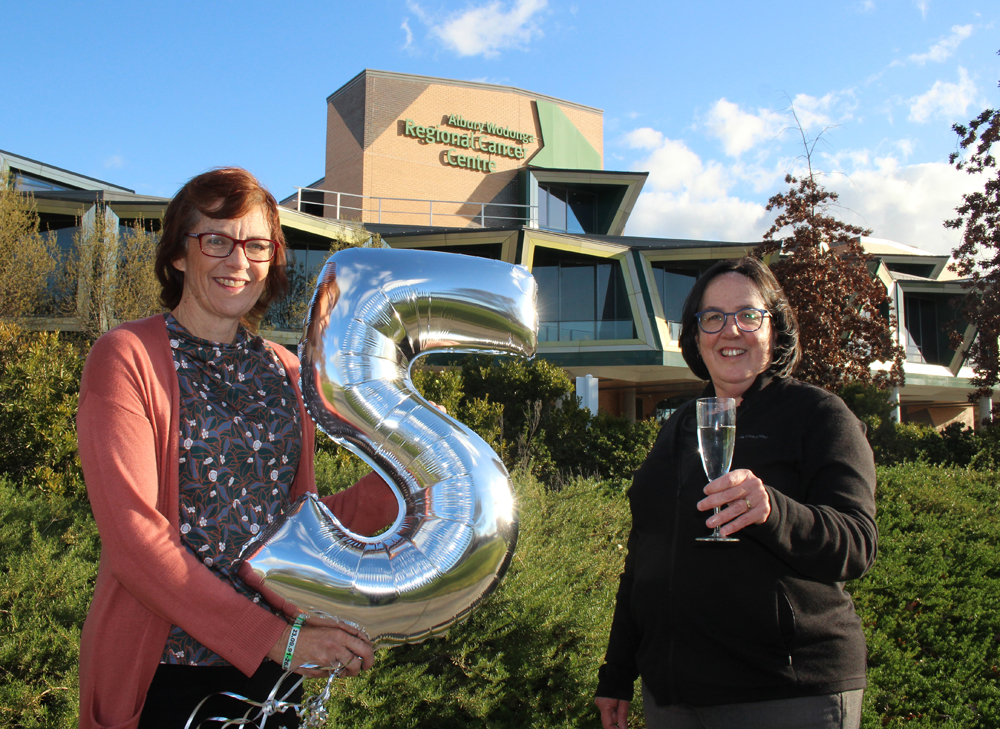 Centre marks major milestone
Five years ago, in September 2016, the Albury Wodonga Regional Cancer Centre opened its doors to patients for the first time.
At the time, the $65 million facility was a hailed a win for the people, with a fierce community campaign denoted by a heart-shaped protest on the Lincoln Causeway, eventually convincing government to invest in cancer services in our region.
Since then, the community has continued to rally behind this vital regional health facility, helping to raise millions of dollars to further enhance our cancer services, facilities and research.
With the support of local business, sporting and community groups, and individuals, the Albury Wodonga Regional Cancer Centre Trust Fund has been able to invest almost $2.5 million in the centre over the past five years.
The money has been used to purchase life-saving medical equipment, upskill staff in the latest technology and treatments, improve access to world-class clinical trials and fund the operation of the Wellness Centre.
Money is also being put aside for new major technology that will make significant advances in cancer treatment in the region in the future.
Chair, Michelle Hensel, was extremely proud of how the Trust has been able to raise money to support cancer services in the Albury Wodonga region, to provide quality care to patients and families.
"Even small investments, like mindfulness programs and handheld fans, have had a huge impact on patient care and comfort," she said.
"Other larger investments, like $337,000 for breast reconstruction equipment, has meant the difference between patients facing significant personal and financial cost to travel to Melbourne for treatment, or having it done close to home with the support of their family and friends."
Trust Fund board member, Di Thomas, was inaugural chair of the charity when it was first formed by the Albury Wodonga Cancer Foundation in 2013.
The former Border Mail editor was also involved in the campaign to secure the cancer centre funding, accompanying a bus load of protestors from the region to the lawns of Parliament House in Canberra in 2010.
Ms Thomas said the centre was "one of the finest things" the community has achieved in the 23 years she has lived on the Border.
"It was a life-changing moment to realise that milestone when I attended the official opening of the centre in November 2016," she said.
"In the five years since, we have seen Albury Wodonga take community ownership of the cancer centre and the Trust Fund, recognising the importance of local support that ensures cancer patients can stay at home and be cared for by their families and friends, while receiving the best medical treatment available."