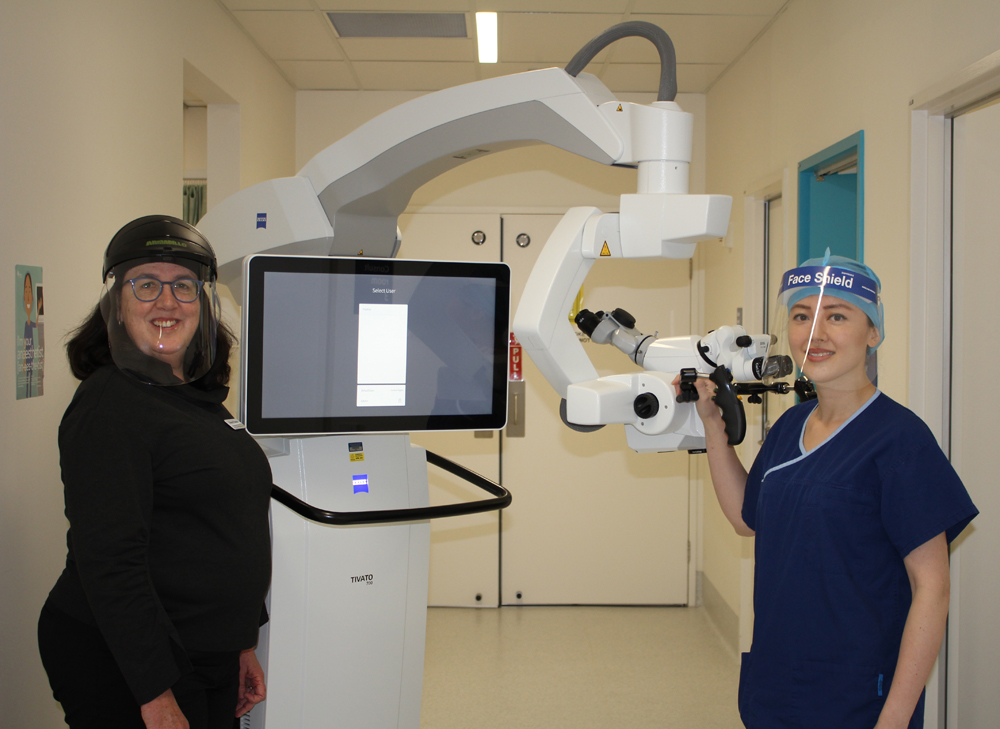 Trust delivers $2.5m in fight against cancer
From wellness programs that improve quality of life, to cutting-edge technology that saves lives, the Albury Wodonga Regional Cancer Centre Trust Fund supports a range of services that help people on the Border impacted by cancer.
Since the cancer centre opened in 2016, the Trust Fund has invested almost $2.5 million in new equipment, staff education and training, cancer research and the Wellness Centre.
Money is also being saved for new major technology that will make significant advances in cancer treatment in the region in the future.
Chair Michelle Hensel said the Trust was helping to bridge the gap between what services are provided in the local region, and what is available in Sydney and Melbourne.
"We think that regional people deserve the very best in treatment and care, just like people in the city," she said.
"Every cent we raise means that more people needing cancer treatment and support will be able to have it close to home, supported by their friends and family."
In the first year of the cancer centre, the Trust announced almost $230,000 in grants which included a $175,000 eBUS endoscope.
The eBUS has saved an estimated 700 patients from the need to travel, and has also offered the opportunity of an earlier diagnosis and increased chance of survival.
In 2017, the Trust boosted its grant funding to $315,000, which included a laser for larynx surgery, valued at $150,000, and rhinolaryngoscope valued at $115,000 to examine head and neck cancers.
The laser has delivered better outcomes for patients through less invasive techniques, and reduced recovery time, while the scope has improved the accuracy and timeliness of diagnosis.
In 2018, the Trust was excited to announce $200,000 over three years to employ a psychologist to provide a free counselling service at the Wellness Centre.
This service has since delivered almost 1400 counselling sessions to about 400 patients and carers.
A further $25,000 per year was committed in 2019 to provide a new outreach clinical psychology service at Northeast Health Wangaratta.
Also in 2018, the Trust facilitated an $80,000 donation for new monitors in the children's cancer treatment space at Albury Hospital.
This upgraded technology enabled children with cancer, who have a low immune system, to be placed in isolation and still be closely monitored by nurses.
Since early 2017, the Trust Fund has supported the operation of the Wellness Centre within the cancer centre, which receives no government funding.
Almost $300,000 a year is now invested in Wellness Centre services and programs which includes the counselling sessions, as well as oncology exercise classes, massage, mindfulness and support groups.
In 2019, the Trust announced a major investment in staff, with $300,000 committed over three years to a new oncology education program.
Although the program has been impacted by the COVID-19 pandemic, it has still been able to offer some professional development, training and scholarship opportunities to enable staff to develop their skills and provide improved patient care.
Since the cancer centre opened, the Trust has invested heavily in research which gives local patients access to world-class clinical trials.
About $100,000 a year has been committed to employ a part-time research nurse, with a special focus on prostate and ovarian cancers.
In 2020, more than 160 patients participated in 86national and international trials ranging from early detection through to treatment for relapse and metastatic disease.
The Trust announced its biggest single investment in equipment in August 2020, with $337,000 in breast reconstruction technology purchased for Albury Hospital.
The equipment signalled the beginning of reconstructive surgery on the Border, and has so far saved at least five women from having to make multiple trips to Melbourne after having a mastectomy. It has also been used for multiple skin cancer surgeries.
Mrs Hensel said the Trust Fund was extremely grateful to its corporate friends, community fundraisers and individual donors that have played such a huge part in helping Border families impacted by cancer.
"We partner with a number of local organisations who we refer to as our shine, sparkle and shimmer supporters who commit to making significant donations to the Trust Fund for three years or more," she said.
"These organisations are just so important to our work, as are members of the community who fundraise for us and all those who have donated to our cause over the years.
"We have also held a number of regular fundraisers of our own, including Night in White, Sunshine Week and the Sunshine Walk, and are supported through bequests, workplace giving and funeral donations."
All activities of the Trust are overseen by a volunteer board of 13 business, industry and government representatives, and supported by a small team of staff members, community ambassadors known as Cancer Pals and a team of dedicated fundraisers who sit on a volunteer committee.
As well as its ongoing commitments to the Wellness Centre, staff training and development, and cancer research, the Trust is looking to invest in robotic surgical technology which is expected to revolutionise cancer treatment on the Border in the future.