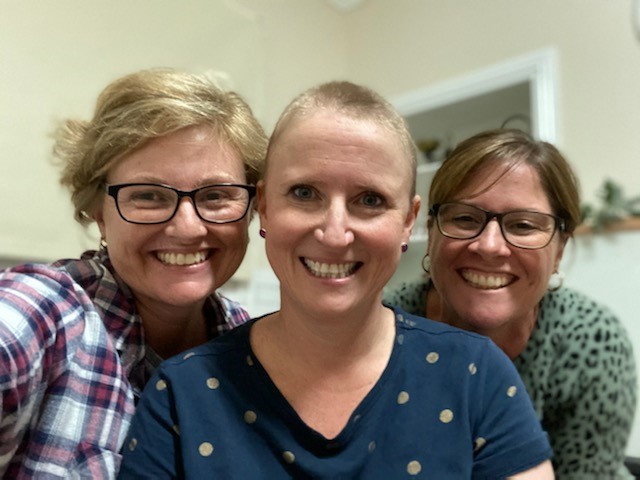 Sunnie's Squad rallies for Trust fundraiser
By Kim Rigby and Natalie Edgley
You often hear about cancer and everyone seems to know someone who has cancer or has been affected by it in some way; but you never think it would be someone young and healthy, or one of your dearest friends.
Last April, our friend Sunnie Bull asked to meet us for coffee at the Art Gallery Café, Benalla, however she wanted to meet outside before we went in.
As she approached we knew something was wrong.
With tears in her eyes, she told us her terrible news – she has breast cancer.
As the weight of the news sunk in, we hugged and cried and with dark glasses on, headed into the café for a much-needed coffee.
Sunnie mentioned that telling people was the hardest thing as she didn't want to ruin our day with her news. Typical Sunnie.
Sunnie is one of those amazing people that everyone should have in their lives.
An easy-going friend, full of support, energy, gratitude, enthusiasm, adventure, fun, always happy to try anything and would find a silver lining in any situation.
To watch her struggle to take in the news, make appointments, talk to nurses/doctors, tell her family and friends, all the while remaining strong for her family, was hard to watch.
We offered our help in any way we could with our partners beside us to support Sunnie, Richard and their two children, Charlie, 17 and Skylah, 14.
But no matter how much help, love and support you provide, the family is ultimately the ones who have to live it.
As Sunnie started losing her hair she called us as she couldn't cope with seeing it in the bottom of the shower.
So, with clippers in hand, coffee, chocolate, happy music and as much laughter as we could create, we shaved it all off.
There have been many moments where being who Sunnie is, we have been able to see the humour in the darkness.
Sunnie and Richard have been overwhelmed with the support of the town with many gifts, offers of help and funds.
They would like to thank the Benalla Saints Football Netball Club, Samaria Suns Football Club, Rapid Hose Systems Benalla, and family and friends for countless hours collecting wood to give as raffles, monetary donations, etc.
As anyone who has dealt with or dealing with cancer knows, the money stops but the bills keep coming.
Sunnie has had to cease working at the local kindergarten while in treatment, the same as so many.
Sunnie has all the dates of treatments, surgeries, doctors and nurse appointments and notes of the journey she has followed since her diagnosis.
But we want to honour Sunnie's bravery, determination and courage.
Sunnie has stayed strong and relatively healthy throughout her treatment and she is always speaking about the nurses and caregivers at the Albury Wodonga Regional Cancer Centre.
No question or request goes unheard and the support given by friendly staff can lift your spirits and give hope.
Within our team are some of us that have dealt with the Albury Wodonga Regional Cancer Centre personally or through helping mothers, fathers, and other family members.
We have organised our team "Sunnie's Squad" in this year's Sunshine Walk to help raise funds for the cancer centre as it is a blessing to have such a facility in this rural area and has helped so many of our loved ones.
Our love and support to anyone dealing with cancer currently, to the doctors, nurses and the team behind the running of the cancer centre.
Thanks, and good luck to all teams participating in the Sunshine Walk this year!