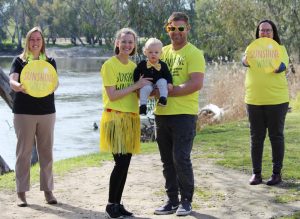 Sunshine Walk goes virtual
Shake off the winter lockdown blues and take part in the new virtual Sunshine Walk on Sunday, November 22.
To ensure vital funds can still be raised for cancer during the COVID-19 pandemic, the Albury Wodonga Regional Cancer Centre Trust Fund has announced its major fundraising event featuring 5km, 10km and 20km walks will be held online this year.
After the opening ceremony is streamed live from Noreuil Park, Albury, participants will be challenged to walk their selected distance anywhere in their community, and share their photos and experiences online.
Trust Fund Manager, Kristy McMahon, said a virtual event would allow the Sunshine Walk community to stay connected and achieve something positive together in these uncertain times.
"The health and safety of our participants, spectators and volunteers is our number one priority, with cancer patients being among the most vulnerable to COVID-19," she said.
"A virtual event will allow everyone including cancer patients and their carers to participate in their own socially-distanced walk, and to connect with other participants via social media and the website."
Participants will be encouraged to dress up for the walk and send in their photos, with prizes awarded to those who go to the most effort.
There are also challenge cups for individuals and teams that raise the most money.
"We would love to see shops jump on board by decking out their windows with yellow for the weeks leading up to the walk, and for residents to do the same in their front yard," Mrs McMahon said.
"This is something that everyone can get involved in, that will make a genuine difference to local families impacted by cancer.
"It will bring some sunshine to our communities and help shake off the winter lockdown blues."
Sunshine Walk Ambassador, Jorja Langbine, said after months of being stuck inside, the event was a great opportunity to get out in the sunshine with family and explore the local neighbourhood.
"Earlier in the year when we first went into lockdown, a lot of people were putting teddy bears and rainbows in their windows, or doing chalk art in their driveways, for people to spot on their walks," she said.
"Now it would be great if everyone people put yellow suns in their windows and front gardens to try and lift everyone's spirits."
To coincide with the walk, schools are encouraged to hold a Sunshine Day on Friday, November 20.
It is hoped students will get dressed up in their craziest yellow outfits and bring a gold coin donation.
Click here for further information or to register.