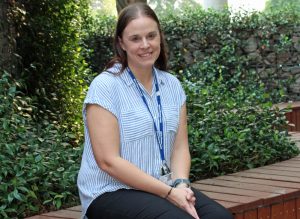 Counselling services in high demand
For many people with cancer, COVID-19 has increased their feelings of stress and anxiety at a time when they may also be isolated from family and friends.
Since March, psycho-oncology services provided through the Wellness Centre of the Albury Wodonga Regional Cancer Centre, which were already at capacity, have surged by almost 40 per cent.
Wellness Centre coordinator and social worker, Teighan Govett, said social isolation associated with coronavirus was adding an extra layer of stress for a lot of patients.
"Patients can't see their family or friends, which makes it harder for them to cope," she said.
"They're also reluctant to reach out to people because they think they've got enough on their plate."
Clinical psychologist Dr Anne-Marie Daw said since March 31, counselling sessions have been provided by phone and Healthdirect video calls.
This includes the outreach psycho-oncology service at Northeast Health Wangaratta (NHW).
"Phone and telehealth options have allowed greater flexibility for scheduling outreach client appointments for our patients and their carers from Wangaratta and surrounds," she said.
"These clients were previously only able to access a fortnightly satellite centre-based service provided at NHW.
"This has been evident in a 51 per cent increase in contacts for the months April to July for clients from this region."
All counselling services provided through the Wellness Centre and NHW are funded by the Albury Wodonga Regional Cancer Centre Trust Fund.
Anyone wishing to access the service can contact the Wellness Centre on (02) 6064 1562.