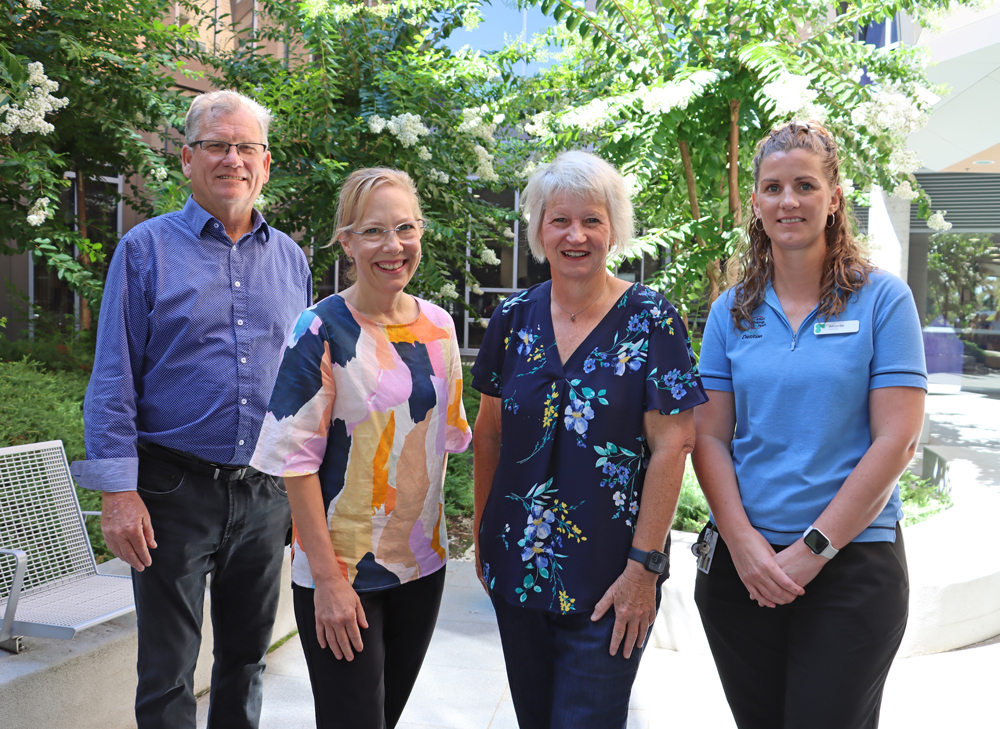 Dietitian awarded Tim Fischer Memorial Scholarship
A DIETITIAN who hopes to reduce malnutrition among the Border's cancer patients is the first recipient of the Tim Fischer Memorial Scholarship, funded by the Albury Wodonga Regional Cancer Centre Trust Fund.
Amanda Kiss, of Albury Wodonga Health, has been awarded the $27,000 scholarship to complete a Master of Cancer Sciences degree through the University of Melbourne.
Delivered online, the two-year course aims to upskill staff in the rapidly evolving fields of clinical care and cancer research.
Trust Fund board member Bryan Blake said Ms Kiss has worked as a dietitian at the cancer centre since it opened in 2016, and the scholarship would enable her to undertake study while on the job.
"Ms Kiss has a special interest in assessing the prevalence of malnutrition among local cancer patients, and investigating the use of nutrition screening," he said.
"This is obviously an area of need and we look forward to what learnings she can bring to our cancer centre and how they will benefit cancer patients in our region."
As part of her research, Ms Kiss hoped to investigate the use of malnutrition screening across all departments of the cancer centre to help identify patients who are in need of a dietitian.
"There is a well-known high prevalence of malnutrition among cancer patients and some of the consequences of that include reduced quality of life, increased risk of infection and hospital admission, as well as longer recovery times," she said.
"To be able to undertake a meaningful research project under the guidance of experts will help improve patient care at the cancer centre."
Albury Wodonga Health Operations Manager Cancer Services, Diane Davey, said Ms Kiss was a valued member of the multidisciplinary team, contributing to the comprehensive care of patients.
"This course will support her professional development and contribute to ensuring evidence-based quality care, closer to home, for our patients as the need for specialist dietetic oncology services continue to grow," she said.
The scholarship is named in honour of former Deputy Prime Minister, Tim Fischer, who lost his battle with myeloid leukaemia in 2019.
The Trust Fund received $24,000 in funeral donations and $40,000 from his estate, while a historic train ride organised by Mr Fischer, in partnership with Lachlan Valley Railway, raised a further $8000, which will go towards the scholarship program.
The announcement of Ms Kiss as a successful recipient has been welcomed by Mr Fischer's widow, Judy Brewer.
"It is very special that Tim's appreciation and admiration of the work of the team at the cancer centre lives on in such a tangible way, investing in people and their skill development," she said.
"It shows how even small amounts can make a difference and we are grateful to all those that contributed to this fund to help make this happen."