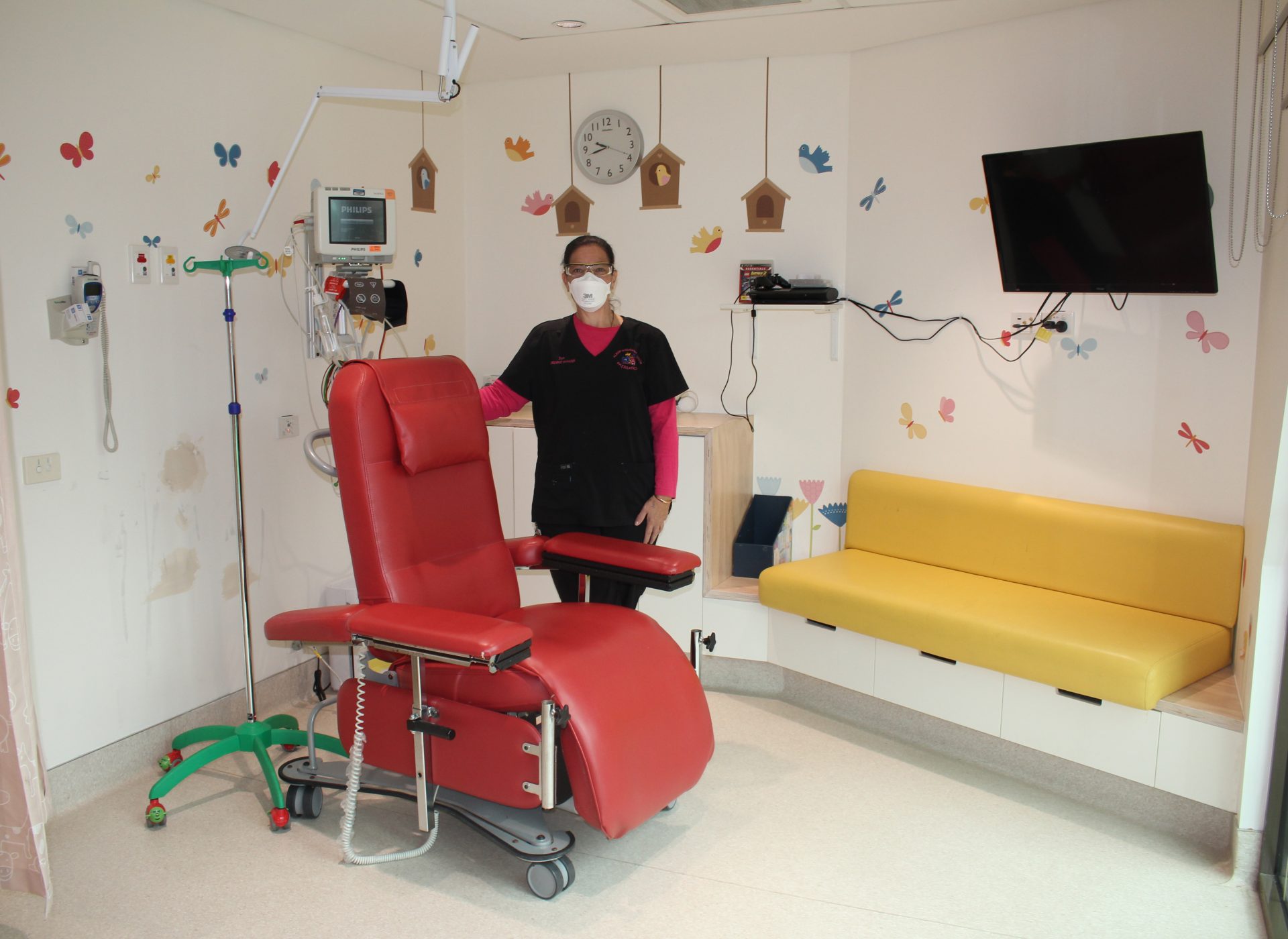 Kids' cancer care close to home
A chemotherapy suite built within the Albury Hospital children's ward as part of the Albury Wodonga Regional Cancer Centre project is saving families hundreds of trips to Melbourne a year.
The construction of two chemotherapy chairs, nurse's station, treatment room and adjoining outdoor area in 2016 paved the way for children in the region diagnosed with cancer to receive some of their care close to home.
In partnership with the Royal Children's Hospital, five clinical nurse specialists in Albury have been trained to provide maintenance chemotherapy and symptom management.
Paediatrics Nurse Unit Manager, Samantha Peet, said prior to the chemotherapy suite, all care for children with cancer had to be provided in Melbourne.
"It's a hard slog and it's traumatic when you've got to travel so far for all components of your treatment," she said.
"So I think it's fantastic that we are able to offer some services to keep the kids close to home as much as possible.
"We had a little boy who would go to primary school for the day, come and have his chemotherapy and go home.
"It meant that he could actually live his life as a normal little kid without that eight-hour return trip and his parents didn't have to take the day off work."
The incidence of childhood cancer is rare, with the Albury children's ward seeing between 10 and 15 oncology patients a year.
Families come from across the North East Victoria and the Albury Wodonga catchment, including Wangaratta.
As it is a highly specialised field, the diagnosis and initial treatment of children with cancer is typically provided in Melbourne.
However a partnership with the Royal Children's Hospital and Monash Health has allowed for some care to be provided locally, including weekly or monthly chemotherapy in some instances.
Albury Wodonga Health Director of Paediatric Services, Dr Mark Norden, said the use of telehealth has increased with the COVID-19 pandemic, allowing children to consult with their oncologists in Melbourne via video link.
A visiting paediatric oncologist also provides regular clinics for survivors in Albury to ensure they remain disease-free and there are no complications long-term from their chemotherapy
"We were one of the first to put up our hands to say that we could do something locally as part of the Paediatric Integrated Cancer Service, which is funded by the Victorian Government to lead a networked paediatric cancer care system in Victoria," Dr Norden said.
"Prior to that we rarely saw a child that was diagnosed for the duration of their two or three-year treatment.
"Now, we see them all the time."
To help see even more care can be provided to children with cancer close to home, the Albury Wodonga Regional Cancer Centre Trust Fund recently announced a $330,000 project over three years for a new Paediatric Cancer Care Coordinator position.
The project has been made possible through donations from the Albury SS&A Club, and Danny and Caroline Phegan.
To be based at the Albury Wodonga Regional Cancer Centre, the position will work closely with the Royal Children's Hospital and Monash Health to support local families of children with cancer, and help identify opportunities for more shared care to be provided locally.