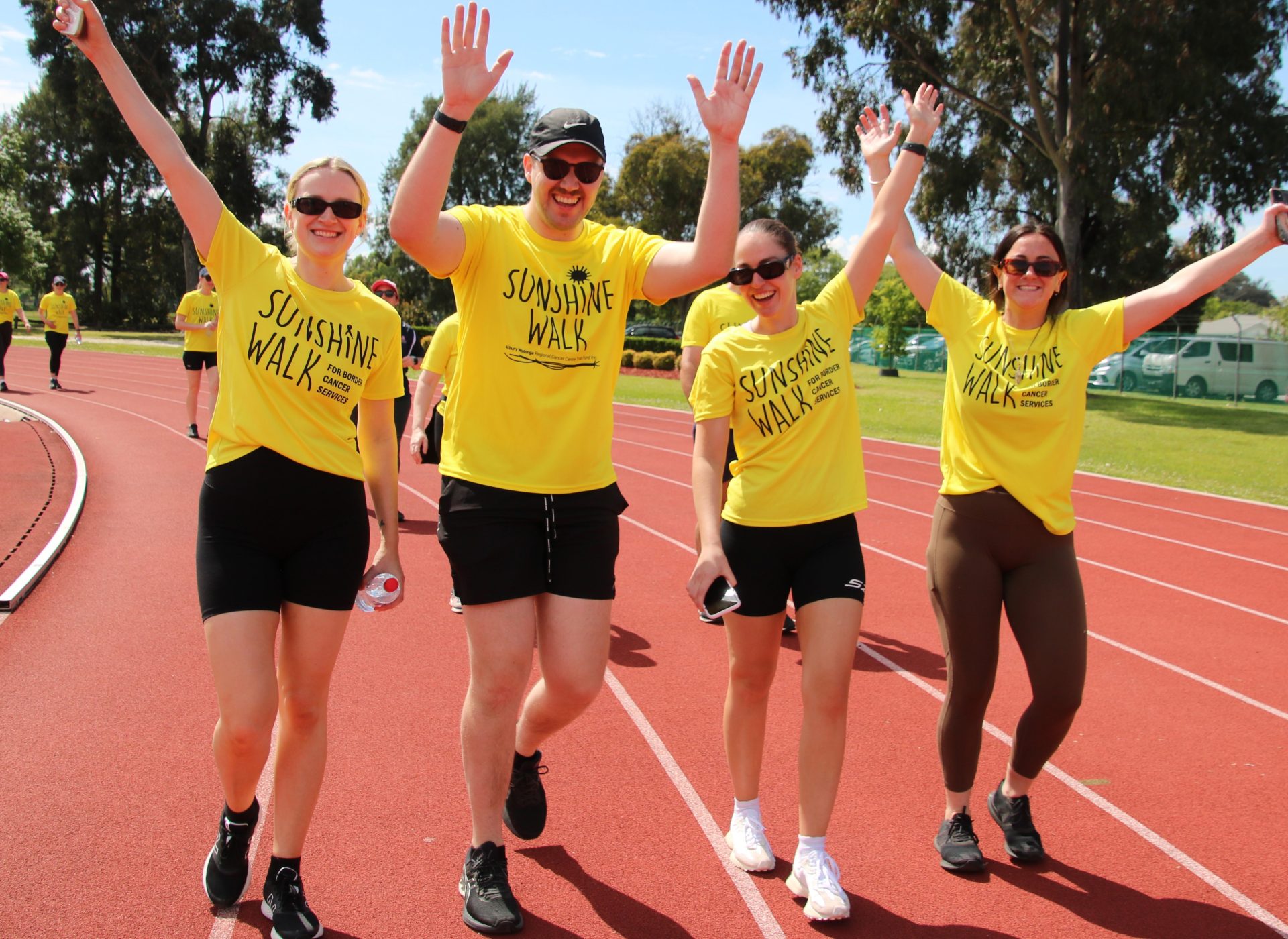 Sun shines for walk return
The sun was shining and excitement was in the air as people gathered recently for the first Sunshine Walk to be held in person since 2019.
More than 900 people from across the Border and North East took part in five, 10 and 20km walks on November 6 to raise money and awareness for the Albury Wodonga Regional Cancer Centre Trust Fund.
Trust Fund chair, Michelle Hensel, was thrilled that a record of more than $250,000 had been raised, with donations still coming in two weeks after the walk.
"Every year it astounds me because every year I think, 'can we ask it of the community?'," she said.
"We've had COVID times, and now we've got floods, can we ask them to do it again?
"But the cancer centre means so much to people – they've either been there, or know someone who's been there, and it's just a sign of hope."
Ramsay Pharmacy technician, Ashleigh Amalfi, said for the first time, she felt emotional before her 10km walk because it has been such a long time since the last event in person.
"Just thinking what a tough few years it's been in general, not being able to do the walk as a community, and how amazing it was to see everyone come together again," she said.
For breast cancer patient, Karina Hickman the walk was about proving to herself that she could push herself physically and mentally again after finishing her treatment in March.
She had planned to walk half of the 20km course with team mates from Hume Public School before getting a lift back.
"I did the 10km and it felt pretty easy, so I thought I'd push a bit more to get to 15km, which wasn't so easy," Ms Hickman said.
"But then I thought I had come so far, that I'm not stopping now and I got there.
"Coming over that finish line I thought about not only what I've been through, but other people and their journey, and it got very emotional at the end."
Albury Wodonga Health speech pathologist, Marion Vile, completed 20km with her team, Speedy Speechies, and was grateful to join with others from the five and 10km walks to cross the finish line together.
"It was really good joining with the other walkers for the last 3km because we just happened to team up with the rest of our team doing the shorter walks at the right time," she said.
"And that last section, even though we were all feeling absolutely exhausted, there was just this mass of yellow walking, and it was just such an inspiration to all be together again."
The in person walk was originally planned to start and finish at Albury's Noreuil Park, but because of flooding, was moved to the Les O'Brien Athletics Precinct at Alexandra Park.
There was also a DIY option allowing people to walk at a location of their choice, with teams taking part in Corowa, Myrtleford, Bright, Walla Walla and as far away as Melbourne.
The walk was proudly sponsored by Healthfocus Physiotherapy, Vision Screenprinting, McDonald's NGI Group, 2AY radio and Dyson Bus Group.