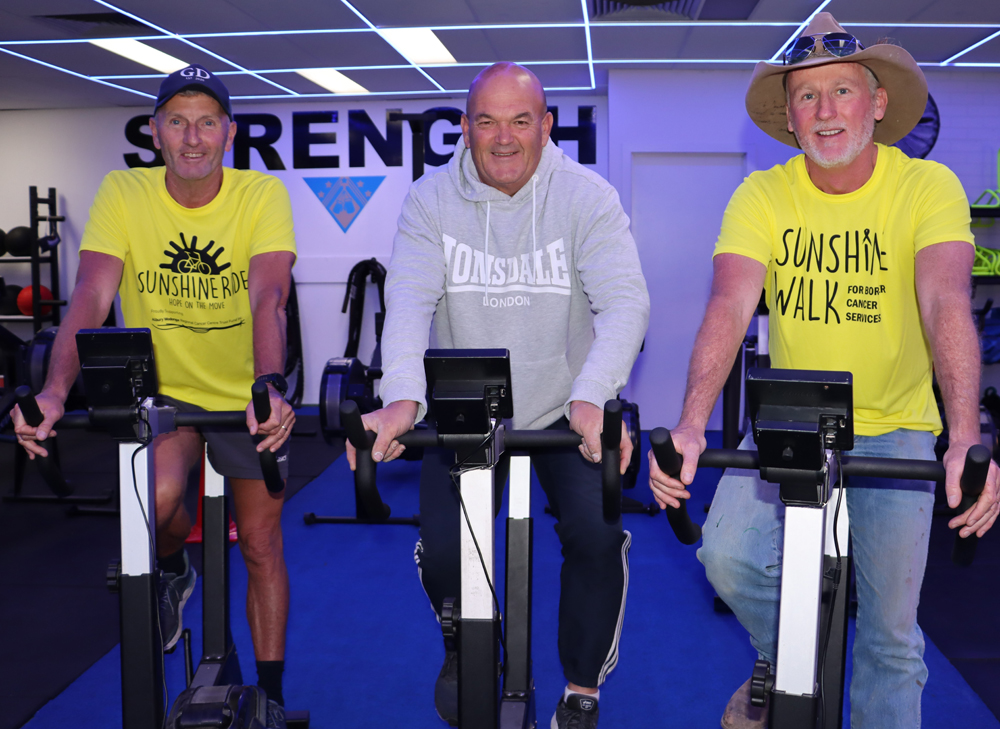 Saddling up for the Sunshine Ride
GYMS, sporting clubs and local emergency services have signed up to pedal 24 hours on an exercise bike in support of the Albury Wodonga Regional Cancer Centre Trust Fund.
The third annual Sunshine Ride will be held on Friday, March 17 and Saturday, March 18.
More than 100 riders are expected to take at the main event at Adrenaline Boxing and Conditioning, with Fernwood Fitness in Albury, and PT Fitness in Wodonga, also rising to the challenge.
Teams have also entered from Albury Thunder Rugby League Football Club and police from both sides of the Border.
Albury sports commentator, Robbie Mackinlay, and well-known Border musician Danny Phegan, are this year's Ambassadors after participating in the ride since it began in 2020.
After losing his brother, father and father-in-law to cancer within a timespan of three years, Mr Mackinlay said the region was lucky to have a facility like the cancer centre.
"I live in East Albury and when I travel into work, I see the cancer centre on my left and then when I look up, I see the monument," he said.
"They really are the great landmarks of Albury."
Although admitting the 24-hour challenge could be tough, Mr Mackinlay said it was just a "snapshot" of what cancer sufferers go through.
"It's very inspiring and a bit emotional too at times," he said.
"I love that people get involved because they want to do what they can, and if they can't ride then they can show their support in another way by making a donation."
As well as doing his fair share on the bike, Danny Phegan plans to perform for riders on the Friday night.
"It can be a long 24 hours in the saddle so anything to keep everyone's energy levels up and hopefully raise a few more dollars," he said.
"The cancer centre is so important because it helps keep families together, and we should do anything we can to support it."
To register or make a donation, click here