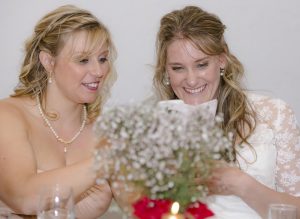 Stephanie set to walk for her sister
STEPHANIE Suidgeest is due to give birth to her second child just weeks before this November's Sunshine Walk.
But this hasn't stopped her from signing up for the 10km challenge in honour of her sister who, at 33, is fighting a rare form of appendix cancer.
Jules Anderson, of Albury, was diagnosed with stage four signet ring cell cancer in March, after suffering from severe abdominal pain just before Christmas.
She was rushed to Melbourne for surgery, and is now receiving fortnightly chemotherapy at the Albury Wodonga Regional Cancer Centre.
Stephanie, who is just 18 months younger than Jules, said there was little anyone could do to help her sister in the fight of her life.
But taking part in the walk was one way she could show her support and help raise money for the Albury Wodonga Regional Cancer Centre Trust Fund.
"The team at the cancer centre has been amazing throughout her journey," Stephanie said.
"When I heard about the Sunshine Walk, I just thought what a great way to give back to such a wonderful resource we have here locally."
Stephanie, of Wodonga, hopes to complete the walk with friends and have Jules waiting for her at the finish line.
"To participate in the walk is going to be fun and for me, it's going to be easy," she said.
"Jules has been so unwell. She's been handling it like an absolute champion but it's been a rough ride, and this is something that I can do to help."
Jules, who recently returned to work two days a week as Tip Top Bakeries area sales manager, said what her sister was doing was "really beautiful".
"My sister is heavily pregnant and I'm so grateful that she's willing to do this to support the wonderful people at the cancer centre who support me," she said.
"It's such a great cause and hopefully it will also help someone else who is going through what I'm going through."
The Sunshine Walk will be held on Sunday, November 6.
It will include five, 10 and 20km walks starting and finishing at Albury's Noreuil Park, or there is a DIY option where participants can complete the walk at a location of their choice.
Held for the past three years, the walk has raised more than $650,000 for the cancer centre which goes towards new equipment, research, staff training and development, and the Wellness Centre.
The walk forms part of a week-long campaign, Sunshine Week, which encourages businesses, schools and community groups to host a fundraising event between October 31 and November 6.
To sign up, or to donate towards Stephanie's walk, click here