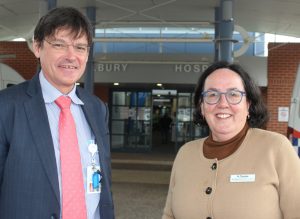 Technology aids colon and rectal cancer diagnosis
New technology funded by the Albury Wodonga Regional Cancer Centre Trust Fund will provide faster diagnosis and improved treatment for Border patients with colorectal cancer.
Around 3000 patients a year are set to benefit from the Provation MD software program that will facilitate booking, reporting and the communication of results of endoscopic procedures at Albury Hospital.
Valued at $245,000 over three years, the technology is designed to be used in conjunction with current generation endoscopy equipment purchased by Albury Wodonga Health.
Trust Fund board member Di Thomas said Provation MD would improve the early detection of colon and rectal cancers and therefore, deliver better outcomes for regional patients.
"This technology will vastly improve our ability to deliver comprehensive care to our cancer patients," she said.
"It will ensure there is good communication between specialists and general practitioners, and will improve patient feedback by ensuring that the information is clear and personalised.
"This will be of huge benefit to many families in our region."
Albury Wodonga Health general and vascular surgeon, Brian Kirkby, said quality colonoscopy was an essential pillar for early detection of colon and rectal cancer.
"Acquiring Provation MD will enable more comprehensive reporting of endoscopy findings, which facilitates better communication between treating specialists and communication back to GPs," he said.
"There is also the facility to provide improved patient feedback regarding their endoscopy results, including diagrams and photos of endoscopy findings.
"Patients and their carers leave the hospital with clear instructions and next steps, personalised to their situation, facilitating better compliance and providing confidence and certainty of aftercare.
"We thank the Albury Wodonga Regional Cancer Centre Trust Fund for making this significant investment in local cancer care."