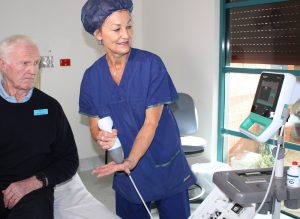 Trust funds the fight against cancer
From wellness programs that improve quality of life, to cutting-edge technology that saves lives, the Albury Wodonga Regional Cancer Centre Trust Fund provides crucial support to our regional cancer services.
Every year, the Trust invests hundreds of thousands of dollars in new equipment, education of staff, research and the Wellness Centre.
The mission of the Trust since it was established in 2013, has been to raise funds to support cancer services in the Albury Wodonga region to provide quality care to patients and families.
In the beginning, even the smallest of investments, like $440 for ice gloves and slippers, had a huge impact on patient care and comfort.
Momentum for the Trust began to build, along with the new $65 million cancer centre, in 2015/16.
At the end of the 2016 financial year, the Trust Fund announced almost $230,000 in grants for local cancer services, including a $175,000 eBUS endoscope which would become a game-changer in the early diagnosis of lung and upper gastrointestinal tract cancer in our region.
This piece of equipment has saved hundreds of people from having to travel to Melbourne for treatment.
Shortly following this investment came the opening in early 2017 of the Wellness Centre, which receives no support from the government.
The fit out of the Wellness Centre was funded through the Trust, and $130,000 was initially committed to employ a coordinator to open the doors and begin introducing programs and services.
The Trust's investment in the Wellness Centre, including support groups, mindfulness and an exercise program, would later increase to $200,000 a year.
In 2017, the Trust Fund also boosted its grant spending to $315,000 which included a laser for larynx surgery, valued at $150,000, and rhinolaryngoscope valued at $115,000 to examine head and neck cancers.
The laser has delivered better outcomes for patients through less invasive techniques, and reduced recovery time, while the scope has improved the accuracy and timeliness of diagnosis.
In 2018, the Trust was excited to announce $200,000 over three years to employ a psychologist to provide a counselling service at the Wellness Centre free of charge.
This service in its first year provided 377 counselling sessions to 130 patients and carers.
A further $25,000 per year was committed in 2019 to provide a new outreach clinical psychology service at Northeast Health Wangaratta.
Children's cancer has also been a major beneficiary of Trust funding, with $80,000 invested in 2018 for new monitors for the children's cancer treatment space at Albury Hospital.
This upgraded technology enabled children with cancer, who have a low immune system, to be placed in isolation and still be closely monitored by nurses.
In 2019, the Trust announced a major investment in staff, with $300,000 committed over three years to a new oncology education program.
The program offers professional development, training and scholarship opportunities for both staff working within the centre, as well as those caring for patients out in their own communities.
Priorities identified for the program included oncology emergencies and pain management, the side effects of radiotherapy and blood cancer treatment.
Also in 2019, the Trust significantly increased its investment in local clinical trials undertaken by the Border Medical Oncology Research Unit.
Previous Trust funding had included support for ovarian cancer trials, but a further $60,000 was committed to employ a nurse dedicated to prostate cancer research.
A further $300,000 over three years was also committed to increase the number of patients recruited to participate in clinical trials, and to offer better support of rural patients and families when clinical research data is collected.
In 2019 more than 200 people participated in the national and international trials, ranging from early detection through to treatment for relapse and metastatic disease.
As well as its ongoing commitments to the Wellness Centre, staff training and education, and cancer research, the Trust Fund is looking to continue to invest significantly in new life-saving cancer equipment in 2020.
Earlier this year, the Trust provided a $16,700 grant for a new bioimpedence spectroscopy (BIS) device, which allows for the early detection of lymphoedema.
Further major equipment purchases are expected to made later in the year.